Brenda Schwartz-Yeager, Wrangell, Alaska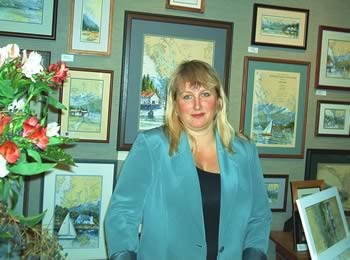 Brenda Schwartz-Yeager is located in Wrangell, Alaska. She is known for her watercolor uniquely on charts, and is well known all over Alaska.
Brenda tells us that her novel method of painting watercolors on marine charts began when she was a child and used her parent's charts for her sketches. She has come a long way from those roots, and is now one of Southeast Alaska's most famous and admired artists.

As a marine artist, Brenda Schwartz-Yeager draws her experience from nature. A third generation Alaskan, she paints those things she knows best—the sea. "The ocean has always been a large part of my life. Raised commercial fishing, I was always in awe of the scenery around me and aware of how fortunate I was to be a part of it."
Painting is also something that has become a mainstay in Brenda's life, painting and sketching for as long as she can remember. Brenda has been the skipper of her own charter boat, exploring the very bays and inlets that are represented in her work. Her images have left their impression on her community and throughout the state. She has created images for such projects as a commemorative stamp, a variety of book covers, the sea murals that grace the shore of Wrangell's waterfront, and most recently, to commemorate the Alaska Marine Highway's designation as a National Scenic Byway.
Brenda can usually be found on the back deck of a boat or on the beach painting and sketching, fine tuning her craft with every year. Brenda travels throughout the Pacific Northwest painting and meeting those who wish to know more about this artist who captures Alaska in such a unique way.
Brenda resides in Wrangell, Alaska where she is wife, mother of three, and skipper of her own charter boat. All these facets help add charm and personality, as well as technical accuracy to each piece of artwork Brenda creates.
Brenda has painted using maps of almost every location in Southeast Alaska. Her signature pieces are those with the fishing boats that she grew up with; however, she has also released prints featuring Coast Guard and Alaska Marine Highway vessels, as well as lighthouses from around the region. She has also done commissions for many customers over the years; contact us if you would like to learn more.