Moondance Alaska by Colleen Goldrich, Juneau, Alaska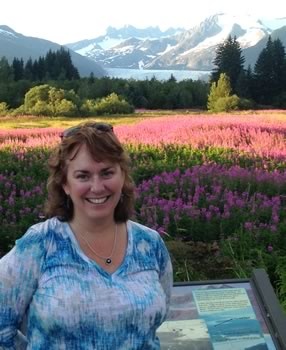 I began my adventure in jewelry design in 1991 while pregnant with my first child, Max. I really needed a creative outlet so my mother-in-law, Hannah Goldrich, began teaching me how to make earrings. I had no idea how much jewelry would affect me at that time or how fortunate I would be to have Hannah in my life. Hannah, who is an incredible jewelry artist/metal smith from Eugene, Oregon, has since continued to be a patient teacher, mentor and inspiration to me. Her style and influence are reflected in much of my work and her life continues to inspire me to push myself creatively.
Well, with the best of intentions it quickly became clear that once Max was born and our family continued to grow, I needed to put my jewelry making away and concentrated on my kids. Once they were old enough to know not to eat pearls or beads I resumed jewelry design with a passion and have been working as much as possible ever since. Moondance (the name of my jewelry line) came about because in those early days with young children, it seemed the only time I could really work was at night—under the moon. Also, I find that most nights really are Marvelous Nights for a Moon Dance and I couldn't help but name my work after such a great song!
These days, my son Max and daughter Riley Rose are Moondance elves and quite skilled artisans themselves and my ever-patient husband, Ben, lives in a house that is constantly creative and more than a little crazy! I work full-time at this fantastic craft and feel so grateful to be able to do so.
My ideas come from many places. I love to use unusual combinations of color, shapes and textures in my work. Color, which has such a strong influence on mind, body and soul, has always been important to me. I find inspiration comes in many ways. Something as simple as a leaf on a tree, a gorgeous piece of fabric, or my friend Terri, coming over with a new blouse or skirt needing a great piece of jewelry to pull her outfit together. I get it from my kids and the great ideas they have. Inspiration also comes from the incredible wild landscape of Alaska. From my home in the "flats" of downtown Juneau I am surrounded by towering mountains and the sea. The seasons provide an ever changing landscape of color and light and are a never ending source of awe and inspiration.