About us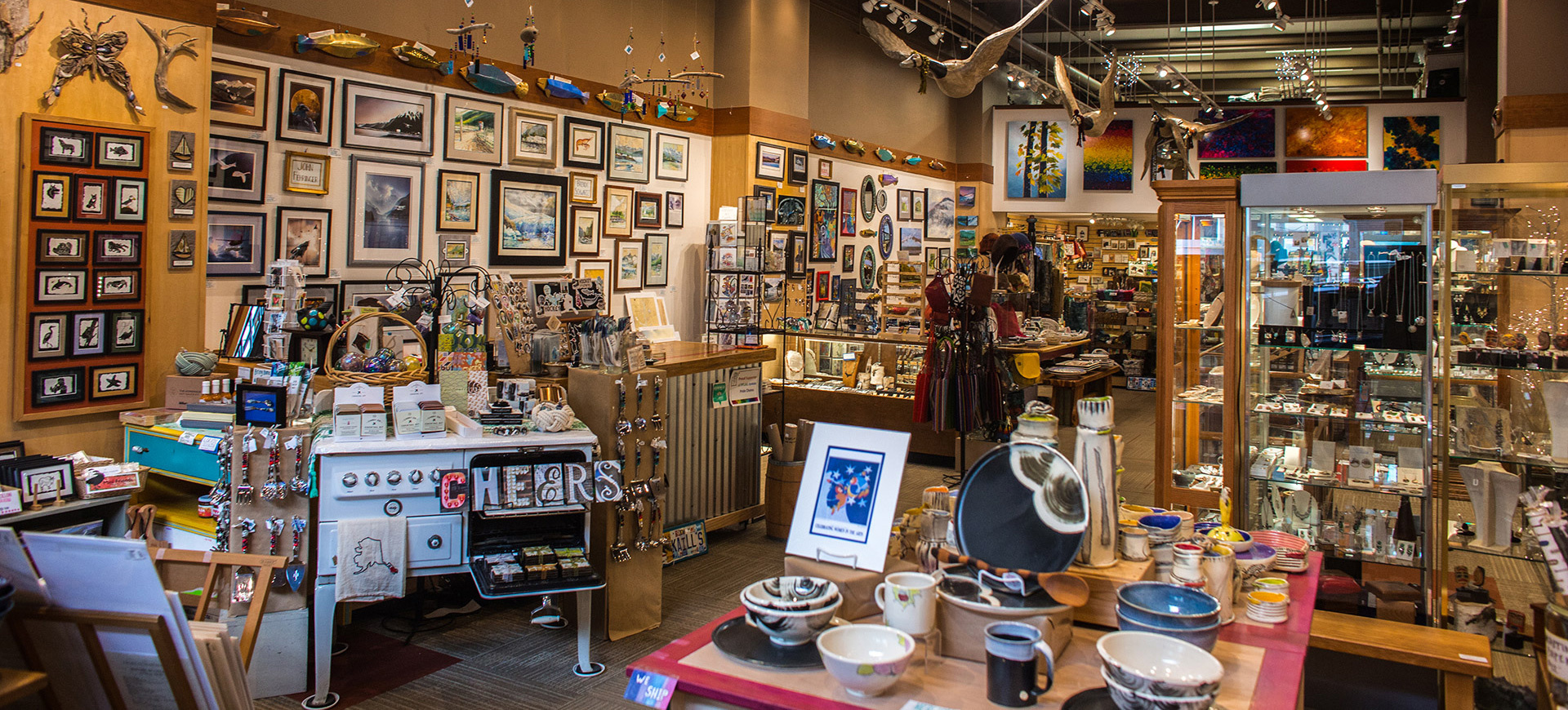 Following state and local guidelines, Annie Kaill's is now open for in-person shopping!
Currently, our hours are 10 AM to 6 PM Monday through Friday, 10 AM–5 PM on Saturday, and 12 PM–4:30 PM on Sunday.
To help keep staff and customers safe, we are requiring that everyone wear a mask or cloth face covering while in the store. We have a variety of unique and hand-crafted masks for sale and also will provide a disposable mask if needed. Also, customers and employees are required to use the provided hand sanitizer upon entering the store.
The "Art" of Downtown Juneau Since 1975
Since 1975, Annie Kaill's has been a favorite destination of visitors and Juneau locals alike. We carry Alaskan and US made art and fine crafts, artisan pottery and stoneware, beautiful glassware and art glass, stunning jewelry, and so much more. With over 160 artists, craftspeople, and small businesses represented ~ you're sure to find that perfect something for you or a friend! Our signature gift wrap is always included and always complimentary!
So when in Juneau, please stop into Annie Kaill's, and you'll see why we have earned the reputation of Juneau's premier fine art & craft gallery.
A Proud Legacy of Ownership by Alaskan Women
Original Owner Annie Kaill (1975–1999) | Since Annie Kaill opened her gallery in Juneau's historic downtown district in 1975, the gallery has been a showcase for the finest artists from Alaska and the Pacific Northwest.
Since the beginning, locals loved Annie Kaill's for its whimsical, welcoming atmosphere and the delightful gifts that can be found inside. This personal touch and love that she put into the store inspired future owners and is evident to this day.
Darby Abel (1999–2013) | Darby purchased Annie Kaill's after working for Annie for more than 10 years. She kept the tradition of supporting Alaskan artists and craftspeople as well as those from the lower 48! Darby was born and raised in Juneau and had raised her family here as well. In 2013 she and her husband decided to retire and so, it was time to sell.
Colleen Goldrich (2013–Present) | Annie Kaill's current owner Colleen Goldrich has lived in Juneau since the early 90's and has family roots here dating back to the 1930's. She established her relationship with Annie Kaill's in (1999) when she debuted her collection of Moondance jewelry as one of the stores featured artisans.
Colleen has continued the tradition of representing Alaskan and US artists and craftspeople. Annie Kaill's now represents more than 160 artists, craftsmen and small businesses. Colleen continues to feature established artists but also loves to find new and emerging artists and brings them in as often as possible. Annie Kaill's is the place to go for artisan- and maker-made gifts and art.
Friendly, Knowledgeable Staff
Annie Kaill's warm, friendly staff make visitors feel at home as they explore the gallery's collection. All are Juneau residents and many are artists themselves, who look forward to assisting visitors to select that perfect gift or special piece for their own home.
Signature Gift Wrapping
Annie Kaill's signature gift wrap is always a favorite of customers and gift recipients alike! Whimsical, fun and always complimentary! Let us help make your gift giving delightful and easy!
Custom Framing
Since moving to our current location, we have introduced custom framing services. Annie Kaill's staff has extensive experience to ensure expert framing of your favorite treasure as well as art carried in the gallery.
Loyalty Program
We love our customers so much and have found a way to say "Thank You!" Sign up for our Loyalty program and earn points on your purchases. For every $100 you spend, you'll earn $5 in "Kaill's Cash" which you can redeem on future purchases in-store or online. Thank you for shopping with us—we really appreciate your business!
---
Voted "Best Art Gallery in Juneau" | Juneau Empire Reader's Choice Awards, 2014–2019
Voted "Best Jewelry Store in Juneau" | Juneau Empire Reader's Choice Awards, 2018 –2019
Featured destination in Juneau with Alaska Shore Excursions, 2019
Named "Best Gallery in Alaska" | American Art Awards, 2011–2015
Mayor's Award for the Arts | Business Leadership, 2015