Karen Beason, Juneau, Alaska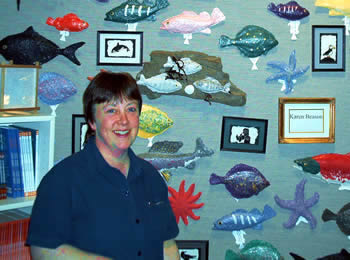 Alaska artist Karen Beason specializes in creating original works in fiber, inspired by the marine life and flora of her native Southeast Alaska.

She was born in Ketchikan, raised in Juneau, and resides in Juneau, surrounded by natural beauty and inspiration. Karen spends most of her free time in the great outdoors—combing the many beaches, hiking in the rain forest, or fishing in the pristine waters. Karen's handmade papers are made from local plants, natural fibers, and recycled paper products.
She gathers and prepares the plant fibers in the summer months and freezes them for later use. The fibers are used in Karen's fish sculptures and also in the papers for her block prints. When Karen is not busy gathering, preparing, or creating, she is busy teaching and sharing the joy of paper making with others, especially children.
Each of Karen Beason's block prints is created by hand using a linoleum block and unique handmade Alaskan papers Karen creates herself. In addition to prints (featured in her catalog), Karen also creates paper mache fish sculptures, fabric fish, peace ravens, and so much more!