Alaska Pure Sea Salt Co.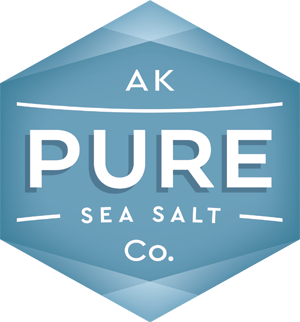 Alaska Pure Sea Salt started early one April morning at a remote cabin on the shoreline of Southeast Alaska while on our honeymoon. We woke to find salt forming on the surface of a pan of seawater that we'd accidentally left on the wood stove overnight. We were intrigued.
We returned to the same cabin every spring for years after and would make "anniversary salt" for use in our kitchen at home in Sitka. This simple culinary find ignited a passion in both of us to learn more about real (non industrialized) salt as well as other artisanal ingredients.
Soon we were salt obsessed! After trying salts from around the world we were especially intrigued by the handful of flake salts available. We had a mission to produce North America's first flake salt. The process brought out the science geek in Jim as he tenaciously tried to create the perfect pyramidal flake, while Darcy experimented with flavors and infusions. Over the course of years, we carried thousands of heavy water jugs up steep harbor ramps, considered marriage counseling several times and had to replace many kitchen appliances that fell victim to our experiments. But, many years later, this led to a flake salt that we are proud to share with others.
We still make our salt in Sitka, Alaska using only water from Sitka Sound with no additives or added chemicals. We eventually opened a brick and mortar store in Sitka that has allowed us to not only help educate people about good salt, but also meet all of our loyal customers. There, we continue to add small batch seasonal salt flavors, salt cellars, salted goodies made by local artisans and have expanded to bath items. Alaska Pure is created with a passion for great food, wild places, pristine water, and of course, each other. We hope you enjoy our salt with as much enthusiasm as we have for producing it.
Jim and Darcy Michener