Arnie Weimer, Juneau, Alaska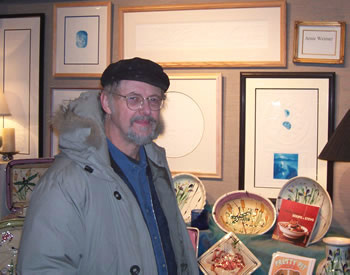 I interviewed Arnie Weimer recently to get the following biographical information for the blurbs on the back of his art prints. I told him I could do a better job of writing it because I would be more objective and maybe spell better. Each time I asked him if he would allow me to do it he would simply say, "Only if you can beat me in a spitting contest!" So, we squared off on the sidewalk and he lost, barely clearing his chin with his spit. I won by a margin of several cracks in the sidewalk.
So, after his loss, this is what I found out about the artist. Arnie Weimer's most recent work is a two thousand square foot mural on the side of a parking garage on Second and Franklin streets in downtown Juneau, Alaska. He frankly told me that the Rotary Club of Juneau commissioned the piece, but he suspected that it was a conspiracy of some Juneau folks to keep him off the streets for a while where he frequently blocked sidewalks with his easel to paint local scenes. It also may have been a further attempt to get him out of local cafes where he is known for staring at people while he sketches them. Chances are that if you've ever had a cup of coffee at any of the local imbibing haunts in the past forty-five years, Arnie has sketched you.
At this point, you're probably thinking this is more information than you need, so I will simply list a few of his other accomplishments without all the nitty gritty details. Arnie has tried almost every medium in the Western world, many Alaska Native forms, and a few from the East. Japan was his most recent foreign travel "to see where all that beautiful Japanese art came from," he said. Oh, before I diverge, I should add snow sculpture. Arnie captained teams in the Capital City Snow Sculpting competitions, winning first and second place in consecutive years. The first-place team represented Alaska in a national competition and won a spectator's choice award for the bust of a Tlingit dancer. Another notable honor was a first place in printmaking of the Alaska Arts Exhibit, which was held in Juneau to commemorate twenty-five years of statehood in Alaska.
Arnie has not only exhibited continually for the past forty-five years as an artist in resident, he has also worked with many Alaska Native artists while employed by the Juneau School District's former Indian Studies program. He also operated a studio gallery for several years where many Alaskan artists gathered to practice their various forms. During this period, Arnie carved a yellow cedar totem pole which took three years to complete. The totem was lent to a local school to enhance their learning environment. Consequently, much of Arnie's work shows an influence of the art forms indigenous to the native cultures of southeast Alaska. From Arnie's many successes in the art realm, one would find it hard to believe that he cannot spit worth a damn. I am a mere freelance writer trying to assist Arnie out in his creative adventure. Thanks for taking the time to read this.
Sincerely, Mark Twain.