Donna Toohey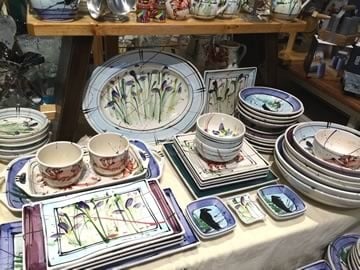 Many years ago, Annie Kaill decided that she wanted to have a pottery that represented the whimsical and sophisticated image of our store. She partnered with talented artisan Donna Toohey for the Annie Kaill's Signature pottery. Each piece is hand made, hand painted, and signed by the artist. The larger pieces are stamped on the bottom "Annie Kaill's, Juneau Alaska" Her designs are fun and colorful; full of life.
This tableware is made of white earthenware clay; each piece is individually thrown, pressed or slab-built. Donna hand paints each piece using non-toxic glazes, and the pottery is oven, microwave, and dishwasher safe. Patterns include King Salmon, King Crab, Alaskan Iris, Raven, and Dragonfly.
We are pleased to offer an online catalog of our wonderful Signature pottery.