Alaska Beachcombers - Utensils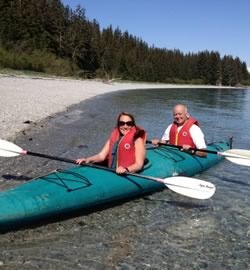 Greetings from Juneau, Alaska! We have followed our 20-year passion for beach combing to create Alaska Beachcombers. Combining our artistry with glass gifts from the sea we have hand crafted functional pieces of art to share with people around the world.
Alaska has the over 6,640 miles of salt water coastline and 33,904 miles of total coastline, providing some of the best beach combing anywhere. With shipwrecks, canneries, mines and long gone communities Alaska has given us endless opportunities to explore, collect and cherish our finds. We hope our pieces link the past with the present through reclaimed beauty.
Long discarded glass fragments are turned into treasures by the constant motion of the saltwater waves. The weathering and frosting can take from 10 to 30 years to perfect, ending up nestled between the rocks of Alaskan beaches. These beautiful glass pieces provide a unique connection to the sea and to Alaska.
We have traveled the state to collect the most precious pieces we could find and hope they will now find a new home in your precious hands. Enjoy, share and create joy with our gifts from Alaska.
~Dale and Jani
Alaska Beachcombers products combine beach glass with high quality serveware. A variety of color combinations have been developed, each incorporating genuine Alaskan sea glass.