Yumi Kawaguchi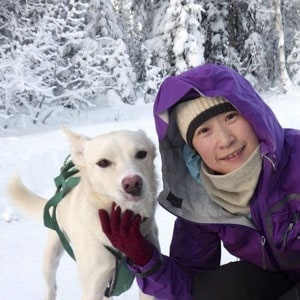 In 2001, I came to Alaska as a student to study Wildlife Biology at the University of Alaska, Fairbanks. In 2006, I graduated with a degree, got married to someone with an incredible dog named Pierce, and have been living in Fairbanks ever since.
When Pierce slowed down with cancer, I quit working in the field away from home and decided to stay with him and start making art. I started creating his prints as I tried to overcome the sadness of his passing in 2010. I have been calling myself a Printmaker ever since.  Pierce made me an artist.
I create my art by hand pressing hand-carved woodblocks onto Japanese papers, Washi, through a traditional woodcut printmaking process. Each print is original with slight variations based on ink applications and multiple layers of different colors. My art is inspired by nature and the wildlife I've witnessed over years of experience in the field working as well as many camping trips with my husband and our dogs.
My favorite subjects are those which not many people recognize or have ever seen. I try to share my observation, knowledge and imagination to express both what I saw and felt in this incredible land in the far north.
I create my prints to bring a smile to your daily life and to connect people to nature and wildlife in Alaska. I hope you enjoy my art as much as I do.