Courtenay Birdsall-Clifford, Skagway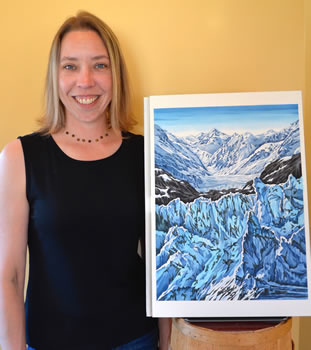 Courtenay Birdsall Clifford was born and raised in Anchorage, Alaska. With artists for parents, she got an early start in the arts and has played with various mediums and subject matter throughout the years. After studying art at St. Cloud State University in Minnesota and a short stint living in Eugene, Oregon, she heeded the call of her home state and moved to Skagway in 2007. Now working primarily in a blend of watercolor and acrylic, she finds unending inspiration in the Alaskan landscape and seeks to capture the lush textures and vivid colors of nature.

Skagway has also afforded her the opportunity to branch out from painting into the realms of logo design, sign painting and book cover art. She designed the Skagway Municipal Seal along with logos for various local businesses and non-profits, and her art now graces the covers of several locally published books. Her latest venture has been illustrating a children's book. Atlin Blue & Miss Scarlet, written by fellow Skagwegian Emily Grace Willis, was released in summer 2015.