Byron Birdsall, Anchorage, Alaska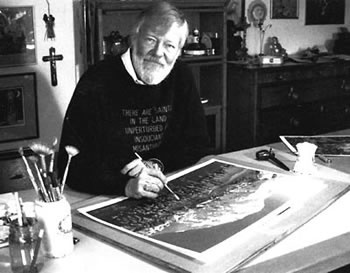 Byron Birdsall was one of Alaska's most reknowned artists. His paintings feature brilliant landscapes, as well as uniquely Alaskan images such as puffins, eagles, and fishing boats.
Born in Arizona and raised in California, Byron Birdsall came to Alaska in 1975. A self-taught artist, Birdsall was a master of his preferred medium, watercolor. Best known for the variety and drama of his Alaskan landscapes, Birdsall's unique ability to capture light is evident in all of his paintings.
Besides landscapes, Birdsall produced florals, still-lifes, puffins, and period pieces, nostalgic renderings of historic Alaskan scenes. A prolific and immensely popular artist, Birdsall each year released several limited edition prints. Byron Birdsall and his family lived in Anchorage, and traveled extensively around Alaska and around the world, generating inspiration for new artworks.
Mr Birdsall passed away in late 2016. He was one of Annie's first artists, and we are honored to have represented him and his work in Juneau over multiple decades.